Animal Welfare Act regulations state under 9CFR Section 3.103(b) Facilities, Outdoor, Shelter: Natural or artificial shelter which is appropriate for the species concerned, when local climatic conditions are taken into consideration, shall be provided for all marine mammals kept outdoors to afford them protection from the weather or from direct sunlight. 
The foliage found around the 3 pools at the Mirage hotel do not provide enough protection from the harsh sunlight in the Mojave desert. Not only do we have temps reaching over 110F regularly in the summer, but nearly all of those days are days with high UV index rates. That means you are getting maximum damage from being in the sun. The Mirage knows this is a problem, and that is why they lather on sunscreen (video proof) every day. Even the trainers must be suffering from the heat because there has been an increase of shade structures and use of misters during the hotter months. The dolphins still sit, 24 years this October, without any shade. This is a simple shade structure, and it should be put up already.
Providing Shade For Dolphins
A company by the name of Shade Comforts has successfully built and installed a shade structure for the dolphins at Six Flags Discovery Kingdom. It is finished with  2-part coal tar epoxy so the constant splashing of salt water. Here is a shot from their website of the shade structure at the dolphin habitat in Northern California: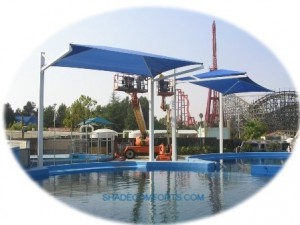 Solka Nava Torno LLC Architects in Texas participated in building a shade structure for the dolphins at the Texas State Aquarium. They succeeded in providing dolphins relief from the sun, while sticking with their aesthetic nautical theme.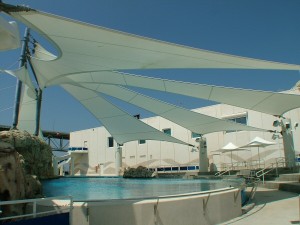 Seaworld in San Antonio, Texas has upgraded their facility to include shade structures for the killer whales and bottlenose dolphins. The Chism Company was contracted to provide this service for the animals.
Dolphin Research Center in Florida is looking for funding to provide a much needed shade structure for their dolphins in Grassy Key. Their website openly states how they routinely have to lather on sunblock to the dolphins melons and how a shade structure is vital to their wellbeing.
Photographic Proof of Lack of Shade at Mirage Habitat
Main Tank
Center Tank
Back/Rear Tank