The National Aquarium in Baltimore is going to be the first dolphinarium in North America to build their dolphins a seaside sanctuary.
The team behind this project is still scouting for the perfect location, and needs to consider:
The environmental appropriateness of a site (natural stimuli, exemplary water quality, a fitting climate, etc.)
Community interest in the sanctuary
Potential for high levels of environmental protection and ability to achieve proper permitting
Workforce-related considerations (housing, livability, family, and healthcare, etc.)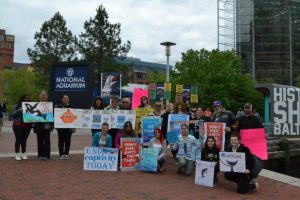 When you engage in a conversation about anti-captivity with an individual who isn't familiar with the subject matter, their response is usually somewhere along the lines of "How will the dolphins survive in an ocean? You can't just drop them and forget about them."
Even though the new sanctuary will not be ready for a few more years, the National Aquarium is already working diligently with their dolphins, preparing them to be transitioned to living in the ocean.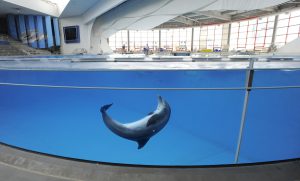 Each dolphin is being treated as an individual, and a customized plan is in place for each of the seven dolphins. The National Aquarium is also beginning to teach the dolphins how to use a stretcher and to relax in shallow waters with trainers surrounding them so they will be less stressed during transport. Algae has been introduced into the tanks to provide a more natural setting, and to help the dolphins learn to adapt to their new environmentally-rich home. New toys will be introduced to their regimen to allow for problem-solving skills to develop.
Dolphin captivity has been a failed experiment that has gone on far too long. Cetaceans do not thrive in captive swimming pools. This is the very thing that activists are begging other facilities to do.
We urge The Mirage to be industry leaders in this new ground-breaking research on cetaceans and follow the National Aquarium by sending the 10 Mojave Dolphins to a seaside sanctuary.