We were horrified at what we witnessed inside the dolphin death pools at the Mirage hotel in Las Vegas in February: chewing gum and a chicken nugget.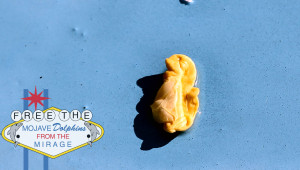 I was photographing Beetle biting at the gate (like he usually is every time I see him now) when a small child who was talking to the trainer stationed near where the main and center pools meet exclaimed "There's chewing gum in the pool!". I looked down.. and he wasn't kidding. Some tourist had spit their gum right into the pool. I photographed it and moved back. The trainer did not seem to notice. She continued her conversation with the child who did not mention it again.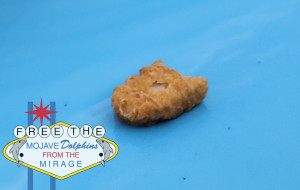 I moved closer to the bend of the main pool near the snack shop, watching for reactions from the crowd and educators. I should of been looking in the pool. The educators should of been looking in the pool. Another guest walks by and exclaims "Is that a chicken nugget?" My eyes instantly dart down. There it was. A half eaten chicken nugget.
At this point, I could not sit back and silently collect information. I had to alert the educators to the contaminants in the pool.
Situations like these could turn deadly for the dolphins who are trapped in a hotel swimming pool in the Mojave desert.
A 5 year old dolphin named Ying-Ying swallowed steel wool, causing gastric mucosal hemorrhage.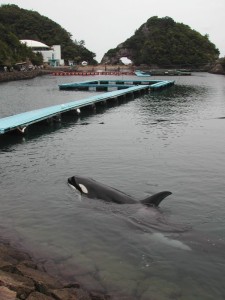 Nami was the name of an orca on display at the Taiji Whale Museum in Japan. Over the course of her life in captivity, she swallowed over 154 pounds of stones. The biggest stone was nearly 7 inches and weighed 4.5 pounds.
Miami Seaquarium had a dolphin named Poncho in the 1980s. He died after eating 2 deflated footballs, 31 coins, 21 stones, 2 screws, 1 training whistle, 1 ten penny nail, 1 metal tag, 1 piece of wire, 1 metal staple and several other unidentifiable objects.
Jim Horton, a marine park employee for 16 years, went on the record to talk about dolphins at Seaworld being poisoned to death from eating coins…
Jim Horton: People were throwing coins in the pools all the time. Idiots. We had one young one year old [dolphin] that turned white. And we thought it was some kind of genetic mutation. The animal died during the day. So we pulled him out and put him on a cart, spraying him with water and rubbing him down so it looked like he was still alive while we were going through park. What we found out was that the white dolphin had a stomach full of coins and rings and jewelry. Everything was perfectly shiny except the pennies. They were the only things that were dissolving.

After 1982, I think, they started making pennies out of zinc and coating them in copper. So it was zinc poisoning. The zinc killed the dolphin. We had another dolphin in there, a young calf, that ate four coffee cans of coins and jewelry. It took six months to get all the coins out of her stomach…..The animal's stomach was completely full of coins. And sharp, pointy stuff, like name tags or brooches. Baby pacifiers were big. There would be a wad of baby pacifiers and a bunch of paint chips from the pool, and stuff like that blocking the intestine.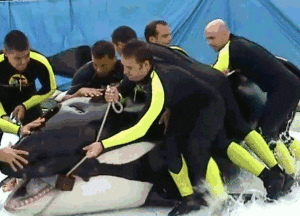 In 2006, Keto, Skyla and Kohana underwent endoscopies to examine their stomach after eating paint chips from the pool. An endoscopy requires trainers to restrain the animal, insert a bit into their mouth, and wire a camera down into their gastrointestinal tract to look for blockages. See a short video here.
Winnie was a 26 year old orca at Seaworld San Antonio in Texas who died after eating tiles, coins, nuts, bolts and other objects making up a 12 pound blockage.
Mirage does what every marine park does- sells their beverages without bottle tops and other small items so you are unable to throw them into the pool, but they do not restrict you on bringing in your own food and objects. Parents are often guilty of allowing their children to eat in public places and play with toys in an attempt to keep them calm and civil. Children are also careless and do not understand consequences. They can and will throw things into dolphin pools.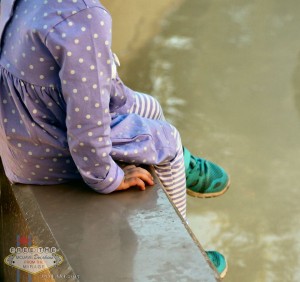 I'm extremely concerned about the low pool walls in Las Vegas. Tourists are often highly intoxicated in this town, and ready to try the first thing that pops into their head. In 2012, students visiting while on break from studying law at UC Berkeley chased one of the exotic birds on display at the Flamingo hotel into the pushes and beheaded it.
Foreign object contamination is a "normal thing" for captive dolphins, and one of the strong arguments one can make against exploiting these creatures in pools.
This time it was a chicken nugget and chewing gum, but tomorrow it could be anything. Please do not visit any captive dolphin facility and persuade your family and friends to do the same. Dolphins are dying to entertain you.