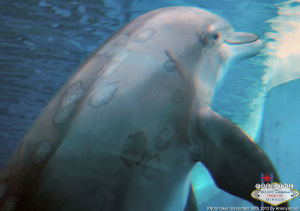 The outbreak of the dolphin pox virus at the Mirage Hotel and Casino in Las Vegas that began more than four years ago may be finally coming to a close.
The disease is said to have gotten its start when Cosmo, the male dolphin born at SeaWorld Orlando, was transferred to the Mirage on March 28th 2010. He stayed at the habitat in the desert until December 6th 2013, when he was shipped to San Diego, and eventually to one of the many dolphin prisons in Florida.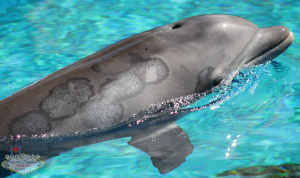 When a Mirage trainer was questioned about Maverick's condition earlier this month, she responded saying that once Cosmo arrived in San Diego with warmer waters, his virus began to clear up so they applied the same techniques here (Which would mean that the poxvirus should be gone at Seaworld San Diego and Seaworld Orlando…)She also said the Mirage habitat water is currently reading at about 78F.
Funny that such a simple solution took more than four years for the vet staff in charge of the dolphins at Mirage (and even longer for the dolphins at Seaworld) to come up with and apply. With our limited resources here at MojaveDolphins.Com, we were able to come to the conclusion that water temperature and salinity were the major factors that needed to be looked into.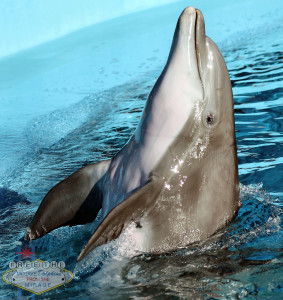 The Mirage dolphin habitat was inspected by the government not one, not two, but FIVE times last year. Why is it that the government saw nothing wrong with visually ill dolphins swimming around in tanks with chipped paint and no protection from the harsh environment that is the Mojave desert?
The waves are finally starting to roll in the last two years. We have seen an explosion of people joining the fight for cetacean rights. Movies like "The Cove" and "Blackfish" are causing people to see that these sentient mammals deserve our respect.
Maverick, and all other dolphins in captivity around the globe, may look happier to the naked eye because they are not covered in lesions, but remember to tell your family and friends that this is not the case. The dolphins at the Mirage do not deserve to live the remainder of their life in a concrete swimming pool in the middle of the desert.