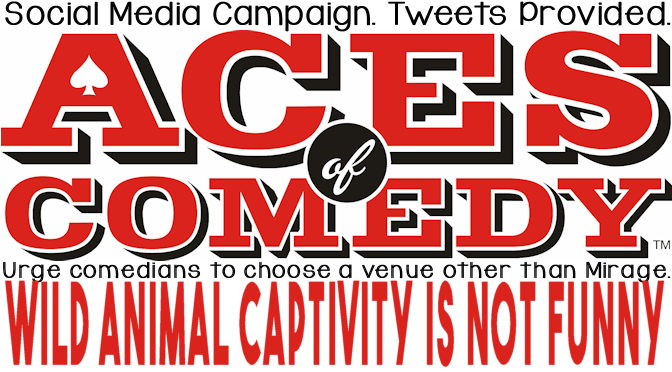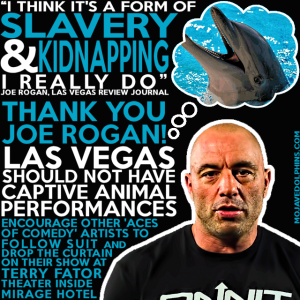 On September 3rd, Joe Rogan spoke to Las Vegas media about how the Mirage's dolphin show was less of an attraction and more of a deterrent to not only tourists, but national performance artists. Joe Rogan told the news how he had heard many people rage against the hotels decision to keep dolphins, and how people have contacted him asking him not to play the Mirage. Joe Rogan used to be on this tweetlist. We hope Joe's actions can encourage his friends and colleagues to make the same decision and take their performance to a venue that doesn't force wild animals into unnatural situations. (View the full article on ReviewJournal.Com- "Is the dolphin habitat keeping national acts away from the Mirage?")
The following comedians are performing at the Mirage in their Aces of Comedy specials at Terry Fator Theater: Ron White, Gabriel Iglesias, Jay Leno, Daniel Tosh, Ray Romano, Nick Swardson, and Tim Allen. Please contact each performer and let them know why you are unable to attend their shows in Vegas at the Mirage. Urge each performer to choose a venue other than the Mirage.
Messages for facebook, instagram, etc:
Hello! I saw that you are going to be performing in the Aces of Comedy segment at the Mirgae Hotel and Casino in Las Vegas. Did you know that they have dolphins suffering in the back of the hotel? These dolphins do not have any shade to protect them from the harsh mojave sun. I ask that you please take the time while you are at the Mirage hotel to look around for yourself, and if the conditions bring sadness to your heart, please use your celebrity status to become a voice for them, much like your colleague Joe Rogan. He was in the Las Vegas Review Journal talking about how dolphins shouldn't be in captivity. They really need you. You can read all about the campaign to save them at MojaveDolphins.Com – thank you, have a great day.
Gabriel Iglesias

2016 Shows: March 18th, March 19th, May 28th, May 29th

Social Media: Facebook – Twitter – Instagram

Daniel Tosh

2016 Shows: March 25th, March 26th, April 8th, April 9th

Social Media: Facebook – Twitter

Tim Allen

2016 Shows: April 1st, May 14th

Social Media: Twitter – Facebook

Nick Swardson

2016 Shows: April 2nd

Social Media: Facebook – Twitter – Instagram

George Lopez

2016 Shows: April 15th, April 16th

Social Media: Twitter

Sebastian Maniscalco

2016 Shows: April 22nd, April 23rd

Social Media: Twitter

Ron White

2016 Shows: April 29th, April 30th, June 10th, June 11th

Social Media: Twitter – Facebook

Tracy Morgan

2016 Shows: May 6th, May 7th

Social Media: Twitter

Jay Leno

2016 Shows: May 13th, June 4th, July 2nd

Social Media: Facebook – Twitter – Instagram

Ray Romano/David Spade

2016 Shows: May 20th, May 21st

Ray's Social Media: Twitter

David's Social Media: Twitter

Jim Norton

2016 Shows: May 27th

Social Media: Twitter

Wayne Brady

2016 Shows: June 3rd, July 9th

Social Media: Twitter

Kathy Griffin

2016 Shows: July 1st

Social Media: Twitter

Leslie Jones

2016 Shows: July 27th

Social Media: Twitter