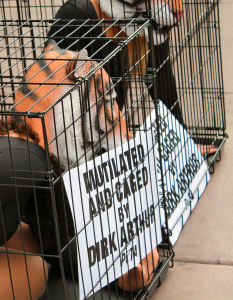 Have you heard of the magician Dirk Arthur? It seems that many people haven't, but that didn't stop the Riviera Hotel and Casino in Las Vegas from hiring him on as their new act. Has the city already forgotten the horrible accident last decade with Roy Horn and his beloved Mantecore? Dirk is one of only a few performers left around the globe that continue to use exotic animals in their act. He was recently dropped from Caeser's Entertainment Corporation, ending his shows at the Harrah's casinos in both Laughlin and Reno, Nevada. Together, we can push the Riviera to drop his act from their bill.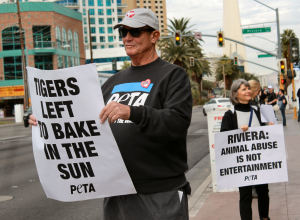 Dirk Arthur says he is for conservation, but he has recently been cited by federal agencies for serious violations of the Animal Welfare Act, including forcing tigers and a lion to undergo a painful declawing surgery. This procedure amputates the last joint on each toe, and is highly frowned upon. He has also kept his large cats in metal cages with no protection from the harsh elements in temperatures over 100 degrees.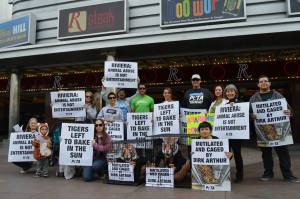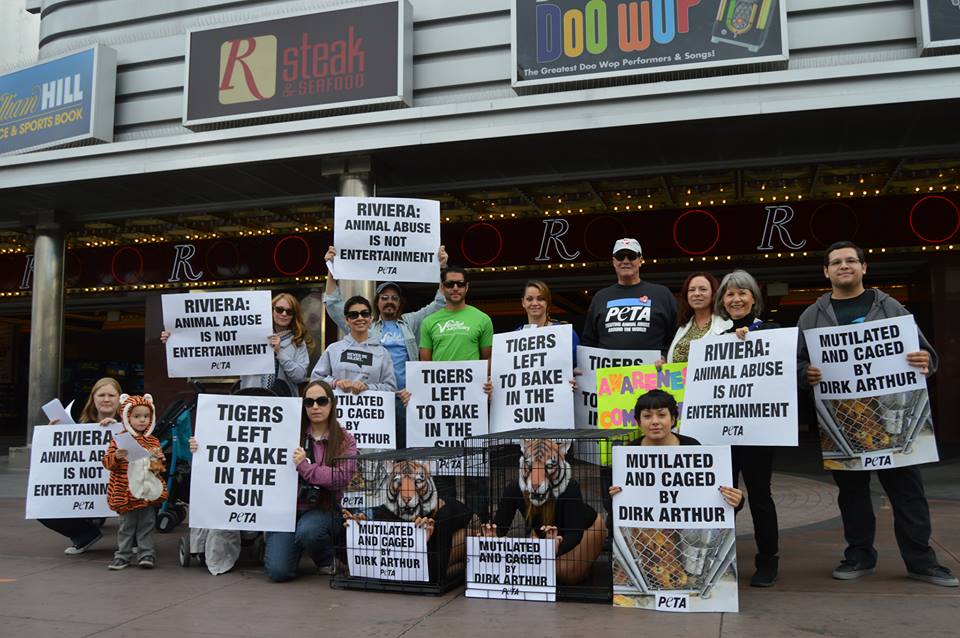 Activists gathered on Wednesday November 19th outside of the casino on the Las Vegas strip to protest Riviera's involvement with Dirk Arthur. His show officially starts on December 1st, so local activists have come together to plan a 3 day long public awareness event taking place just feet from the open casino floor. Get together with your family and friends to show your support for the animals who are forced to perform 6 days a week. We will be meeting Saturday Nov 29th: 3:00-5:00pm. Sunday November 30th: 3:00pm-5:00pm. Monday December 1st 5:00-7:00pm. Posters will be provided, but in limited supply. Feel free to create your own. You can also help us raise awareness by dressing in animal costume/face paint. We welcome all forms of your creativity.

Please leave comments on the social media pages belonging to the Riviera Hotel and Casino–
Email the Riviera's president, Robert Kunkle, and tell him you'll be going elsewhere until the show is axed. [email protected]
Call the Riviera box office at 702-794-9433, press 2. Urge the ticket agent to forward your comments to management. 
Join local activists thanksgiving wknd protesting #DirkArthur #WildIllusions @RivieraLasVegas Cruelty is no illusion pic.twitter.com/1RLJnlU6i3 (Tweet This)

Email @RivieraLasVegas Robert Kunkle and tell him you will boycott until #DirkArthur #WildIllusions is off the bill! pic.twitter.com/0Gy0pRI6Nf (Tweet This)

Call @RivieraLasVegas box office 702-794-9433 press 2. urge them to pass your comments to management #dirkarthur pic.twitter.com/4kzBM4PX48 (Tweet This)

There is no excuse for using big cats for entertainment @RivieraLasVegas It's a recipe for suffering #DirkArthur pic.twitter.com/k2RmdLrTzd (Tweet This)

Caesar's severed ties with #DirkArthur.. @RivieraLasVegas we ask you to do the same. 2015 is no time for animal acts pic.twitter.com/s9llPlKvyv (Tweet This)

#dirkarthur's use of exotic animals is out of style. @RivieraLasVegas we will not support you while you support him! pic.twitter.com/EIPQ9WHMnF (Tweet This)

Roy Horn was mauled on stage @TheMirageLV a decade ago & now @RivieraLasVegas brings #dirkarthur #CaptivityKills pic.twitter.com/yxI7LdPoPK (Tweet This)

Hey @RivieraLasVegas Animal abuse is not entertainment. Drop the curtain on #dirkarthur #wildillusions! pic.twitter.com/4EP4ZxxUl9 (Tweet This)

#DirkArthur has left big cats in metal cages in temps over 100F! @RivieraLasVegas don't be part of animal cruelty! pic.twitter.com/2NwYVLln4H (Tweet This)

#DirkArthur mutilates his big cats with declawing which violates #AnimalWelfareAct @RivieraLasVegas cancel the show! pic.twitter.com/J1T70RTdUt (Tweet This)