Not even an hour ago, BenDeLaCreme uploaded this photo to her instagram account captioning it "I refuse to provide any context for this image, #justwait".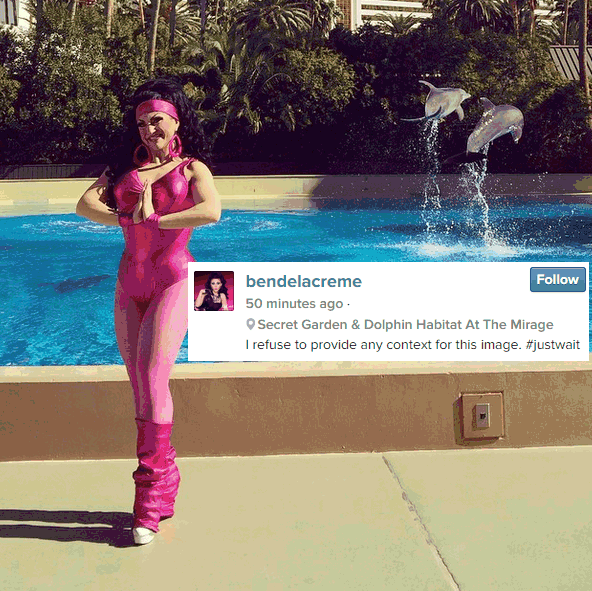 Update: As of 1:17PM Pacific, BenDeLaCreme has deleted all online references to her visit to the Mirage dolphin habitat. 
Who is BenDeLaCreme? She is a drag performer from Seattle known for coming in 5th place and winning Miss Congeniality on the 6th season of RuPaul's Drag Race.
It breaks our heart every time we see a celebrity visit this hotel and give publicity to the habitat through their social media accounts. The dolphins don't have any shade to protect them from the heat in the summer, they display multiple forms of stereotypical behaviors, not to mention they suffer from the pox virus. 2 of these dolphins (Duchess, Lightning) were taken from their families in the wild. 3 of the dolphins (Sophie, Beetle, Osbourne) were sent from Seaworld on a breeding loan. It was after the first arrival of Seaworld dolphins in 2010 that the pox virus showed up.
We would like to take this time to reach out to BenDeLaCreme on her social media accounts.It is extremely important that when we attempt to educate people on the choices they have made involving dolphin captivity to stay polite. It is possible that Dela (or someone else) has no knowledge of dolphins and their natural needs. People are more receptive to what you have to say when you are not screaming at them. I have witnessed people leaving nasty comments, and it does not show the cause in a good light. Treat people with respect, the same way you would like the dolphins to be treated. We have provided a simple tweet list below, but may also copy the messages to her other accounts.
How to Contact BenDeLaCreme-  
Tweetsheet for BenDeLaCreme-